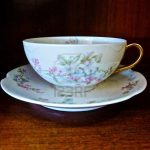 There is certainly a lot of good things happening in  Carlow this week end  !  Today is the Lauch of the Tea Rooms in Ducketts Grove  !
Kehoe Auctioneers are rolling out the first in a serious of special offers to take the stress out moving home. We are all well aware that moving home is a very difficult time for all the family and it is our firm belief that you should work with an agent who is there to help you get through the process in the most stress free way, whilst being assured that the best possible price is achieved for your property.
We are inviting all prospective sellers to contact us to arrange an appointment to have their property valued and we will buy you tea and a scone at Ducketts Grove Tea Rooms. The Tea Rooms at Ducketts Grove are located in a delightful setting amongst the ruined house and castle and the walled gardens. Since 2005 the property is being managed by Carlow County Council making this historic building accessible to us all. The Tea Rooms are a recent addition and are run by Madeline Forrest. This tranquil setting is perfect to relax and unwind after your meeting with us. Kehoe Auctioneers will advertise your property on www.daft.ie , www.myhome.ie  Kehoe Auctioneers web site  and Facebook. 
But wait, there's more! If you decide to go with us we will provide you with a BER certificate free of charge, subject to some terms and conditions, to ease the expense of the sales process. Call Kehoe Auctioneers today to discuss selling and our great offer.
See our Advertisement in The Nationalist for all the details of this great offer So enjoy the Launch today in Ducketts Grove  and remember if you are selling your house Call Kehoe Auctioneers now for an appointment today 0599131678 !