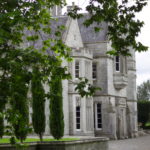 As part of Heritage Week in Carlow I went to visit Duncleckney Manor in Bagnelstown in Carlow.  It was a beautiful warm sunny day and the Manor was very impressive as we drove up the long tree lined drive way.  The house is only open to the public on certain days of the year as the Sheane family reside in the house.   In fact we were very lucky and actually got to meet Mrs. Helen Sheane and her grand son.
Helen and Derek Sheane bought the house in 1989 and it was in very bad repair and severe neglect.  The house needed a  new roof and had to be restored from roof to windows and floors.   Mrs. Sheane installed a cotton material to cover the walls rather than wall paper and this is the same method used in French historical  houses.  
 The tour itself is not extensive, mainly the Hallway with the imposing stairway to the Landing and you then visit one of the upstairs rooms where you watch a very informative video on the history of the Manor.  You then visit the study, the dining room and one of the drawing rooms.   These rooms are all located at the front of the house.   So the tour only lasts for about 20/25 minutes in total.   The gardens are really magnificient and you can stroll around at your leisure.   Photographs are only allowed outside the manor.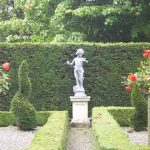 The history of Dunleckney Manor can be read at
http://www.ihh.ie/houses/22/Dunleckney-Manor/index.cfm and it dates back originally to the 17th. Century.
A very enjoyable day,  if you get a chance make sure to put this in your Diary for Sept. 2012
 Kehoe Auctioneers – Valerie